| | |
| --- | --- |
| Date: | May 2015 |
| Client: | North West Mall – West Auckland |
| Dealer: | Australasian Audio Engineering – Auckland |
| Equipment: | RANE HAL1X, EXP1, Pager1 x 3, RAD2W, DR3W, RAD17, DR6 touch panel remote, Project550BT x 15, Project550WT x 33, LC2-PC30G6-4 x 84, AX6240Z x 4 |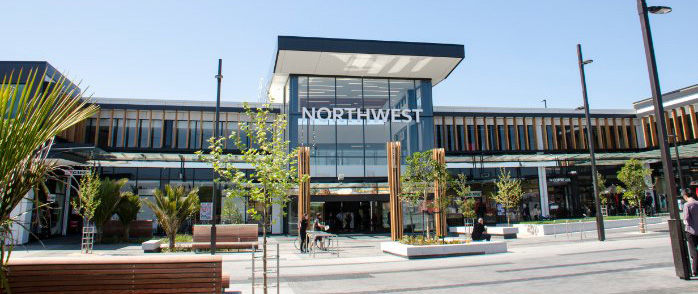 The new North West Mall is set to be one of the largest shopping complexes in the country. The first phase of the Mall is now up and running and, is a complete Pacific AV solution.
The front end is a RANE HAL1x DSP with a EXP1 expansion unit along with remote wall plate inputs and remotes. There are 3 x Pager1 zone paging mic stations situated around the mall, running back to the DSP on simple CAT5 cabling. The DSP takes care of all the compression, EQ and routing for all the inputs which include Paging Mics x 3, RAD2W remote input for the Performance Area and a couple of BGM sources. All can be routed to any of the zones via a simple GUI.
Speakers are a mix of BOSCH LC2-PC30G6-4 high performance 4" two way flush mount ceiling speakers, with metal back can for the low ceiling areas and under the eaves by the shop fronts. FBT Project550 series box speakers, mounted on the side walls of the mall, are aimed at covering the middle of the walkways as the ceilings are very high there.
Power for the speakers is handled by 4 x dual channel 1000w @ 100v line power amps so there is plenty of headroom.
Coverage is fantastic and sound quality is stunning with plenty of speakers to provide very even coverage and SPL.
If you would like any further information on BOSCH or RANE, please contact us.