Description
DICENTIS Wireless Conference System is an innovative system based on standard Wi-Fi technology and smart wireless management to ensure interference-free and highly flexible wireless conferencing. It is used in many Councils throughout NZ and has a proven track history as a reliable and excellent sound system.
Current Installations Include:
♦ Ashburton District Council
♦ Auckland City Council (3 sites)
♦ Auckland Transport
♦ ECAN Environment Canterbury
♦ Hastings District Council
♦ Hauraki District Council
♦ Horowhenua District Council
♦ Nelson City Council
♦ Oamaru District Council
♦ Otago Regional Council
♦ Ōtorohanga District Council
♦ Palmerston North City Council
♦ Selwyn District Council – 2 systems (Installed and Portable systems for remote meetings)
♦ Tasman District Council
♦ Timaru District Council
♦ Tokelau Government (2 sites)
♦ Waikato Regional Council
♦ Waitaki District Council
♦ Western BOP District Council
♦ Whanganui District Council
♦ Whangarei District Council
♦ Greater Wellington Council
Click here to read the CX Magazine Road Test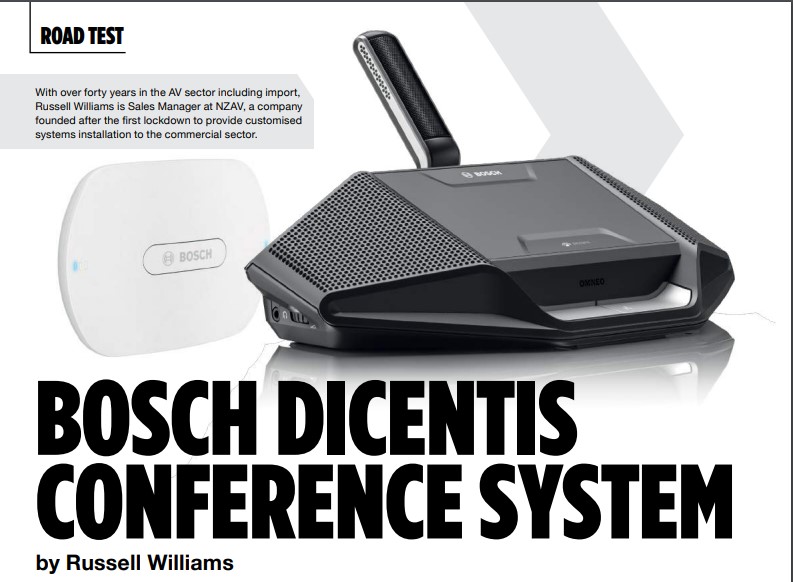 System Features
▶ Standard Wi-Fi technology for co-existence with other Wi-Fi networks. Uses seamless AUTO switching between 2.4/5GHz.
▶ Smart Wireless Management to ensure interference-free wireless conferencing.
▶ Touch-screen Wireless Devices with built-in NFC reader for a superb meeting experience and future expandability.
▶ True Wireless connectivity for easy configuration and control, without the need for an additional router.
▶ OMNEO ready for future expansion with DCN multimedia systems.
▶ Voting and NFC options available.
Maximum flexibility. Zero audio interference.
The innovative DICENTIS Wireless Conference System uses state-of-the-art technologies, standard Wi-Fi and smart wireless management to ensure interference-free wireless conferencing.
Designed to be the most flexible discussion system available, it enables quick and easy set-up and breakdown of small meetings and larger conferences.
Choice of devices
The Wireless Device and Wireless Device Extended with capacitive touch-screen and built-in Near Field Communication (NFC) Reader enable a superb meeting experience. The functionality of the touch-screen devices can easily be enhanced through software modules. A range of HD and gooseneck mics available.
True Wireless connectivity
True Wireless connectivity enables direct connection to the Wireless Access Point with any tablet or laptop and without the need for additional equipment, such as a router.
Lithium Ion Battery Technology
24 hour battery life
3 hour fast charging with microprocessor control
Built in Feedback Extermination system
Built in feedback extermination and multiband EQ
Audio In and Out
Line level audio in and output to enable audio to be played back through the built in speakers and audio out for recording, PA and VC systems.
Third Party Camera Control
The Bosch Dicentis system can also send out Camera Control commands via the LAN system using the station "Mic On" status to recall camera presets. It has been tested with the following cameras.
Sony IP cameras via CGI commands for 300/360 series:
SRG300SE/301SE and SRG-360SHE, BRC-X400
Panasonic IP cameras via CGI protocol (HD Integrated Camera Interface Specifications 1.06):
AW-HE40, AW-HE50, AW-HE60, AW-HE120, AW-HE130, AW-UE70, AW-UE150
Lumens
VC-A61P camera
If using two cameras, you can add the Kramer MV6 SDI switch, which will switch between the two cameras and is also controlled by the Dicentis system via the network.
SpaceManager Voting Software
Enables voting via DCNM-WDE touchscreen stations and records the results onto a laptop/desktop PC using the API. Results can be exported into XL or PDF showing total voting results and a breakdown of who voted and how. Often used in conjunction with the NFC card readers and a user database for an accurate record of voting results.