Description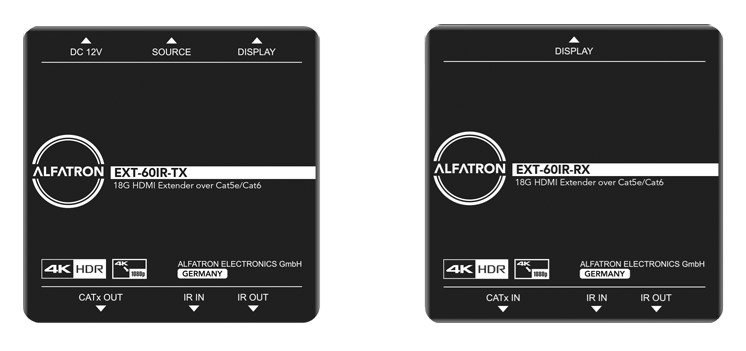 Alfatron ALF-EXT60IR-18G HDMI point to point Extender Set. Supports 18Gbps 4K@60Hz 4:4:4 up to 70m over single CAT6 cable with HDMI 2.0, HDCP2.2, bidirectional IR pass through, Supports PoC, the Receiver can be powered via Transmitter. HDMI loop out on transmitter. Receiver supports 1080p downscaling.
Product Features
• Supports HDMI 2.0, up to 4K@60Hz 4:4:4, HDR 10, 18G, HDCP 2.2
• Extends 4K or 1080p HDMI signal up to 230 feet (70m) over a single CAT6 cable
• HDMI loop out on transmitter
• Bi-directional IR pass-through
• Supports video resolution down-scaling, the 4K input can be automatically degraded to 1080p output on the receiver to be compatible with legacy 1080p display devices
• Features visually lossless compression with no latency
• EDID pass-through
• Compact design, easy to install and simple to operate.
7 YEAR WARRANTY