Description
AudioFetch is a US company that specialises in products used for streaming audio-over-WiFi to smart phones. They  using a free customisable app. Systems are configurable from 1 – 512 channels using a range of products including a rack mount series.
Ideal for Churches, Schools, Museums, Airports, Clubs, Sporting Facilities and Digital Signage applications. Suitable for Hearing Assistance Solution (HAS).
The FETCH8-AO1 is a 8 channel  audio over WiFi device that allows you to stream 8 channels of audio simultaneously over WiFi to smart devices using the free app.
It is part of the FETCH series which range from 4 – 16 channel devices which can be part of a much bigger overall system with a maximum of 512 channels!
Features:
– 8 channel AudioFetch system which can be expanded out to max 512 channels.
– Puts 8 Audio channels onto local WiFi.
– Low Latency audio streaming.
– Uses dedicated processor per input.
– Users download free App from Google Play or Apple iTunes store.
– Accepts analogue, optical, or digital coax.
– Free analog (RCA and headphone), optical, coax, and USB cables included.
– No monthly fee.
– Includes free ad and usage portal.
– Small 25.4cm x 15cm x 8cm enclosure
– Rack mountable with optional rack kit.
– Very cost effective solution.
– Very easy to set up and customise the look of the App using the DOGHOUSE Windows or mobile Android and iOS app.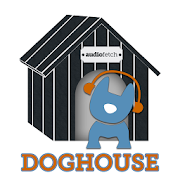 Check out our AudioFetch video to see how easy it is to set-up and use: